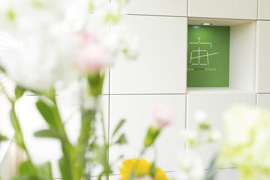 3-16-10 Daido Building 3F,
Shimo-ochiai, Shinjuku-ku,
Tokyo 161-0033
(Very close to the Shimo-ochiai
Sancho-me bus stop(On Mejiro Street))
TEL : 03-5906-5092
FAX : 03-5906-5093






We treat speakers of English, French, and Korean.
Other languages may be accommodated, subject to translator availability.
             *Please inform us of your language when you make an appointment.
---
*Closed days: Tuesdays, Saturdays, Thursday afternoons,
  first and third Sundays, national holidays, and New Year holidays
Appointment is required.
Please call us during our office hours to schedule your appointment:.
We are open on Mondays,Wednesdays (10;00-18:00),
Thursdays(9:00-13:00), Fridays (10;00-19:00),
and second and fourth Sundays (13:00-17:00).

Please bring your health insurance card
   on your first appointment  
We will try our best to see you at your appointment time,
   but you may be asked to wait for a while
       when the booking is very heavy.


●Please contact us by telephone
●Please note that answering your questions may require
  a face-to-face consultationwith our psychiatrist.
●E-mail inquiries are not accepted due to privacy issues.