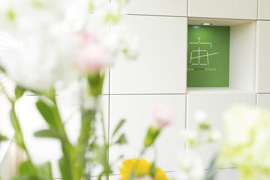 3-16-10 Daido Building 3F,
Shimo-ochiai, Shinjuku-ku,
Tokyo 161-0033
(Very close to the Shimo-ochiai
Sancho-me bus stop(On Mejiro Street))
TEL : 03-5906-5092
FAX : 03-5906-5093





We treat speakers of English, French and German.


*Closed day: Monday, Thursday afternoon, every other Saturday,
                        Sunday and National Holidays
Appointment is required.
Please call us during our office hours to schedule your appointment:
We are open on Tuesday, Wednesday and every other Saturday (9:30-18:00)
Thursday (9:30-13:00), Friday (9:30-19:00)
Please bring your health insurance card
  on your first appointment.  
We only accept cash.  
We will try our best to see you at your appointment time,
  but you may be asked to wait for a while
  when the booking is very heavy.


●Please contact us by telephone
●Please note that answering your questions may require
  a face-to-face consultationwith our psychiatrist.
●E-mail inquiries are not accepted due to privacy issues.